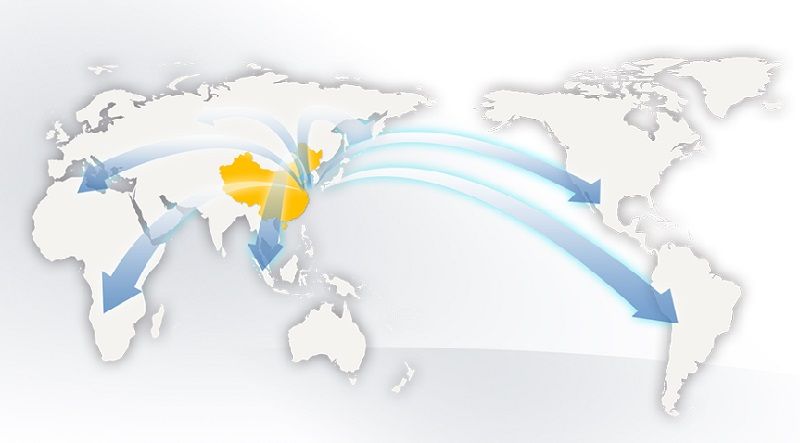 Root in China, Serving the world
With the development of globalization, there are lots of Chinese companies with great minds participating in the global market competition in different ways.
WEIHONG not only focus on the research of motion control system, but also sales and service. We have multiple core technology such as LEP velocity planning algorithm, machining tool path file removing bad algorithm, self-tuning mechanical resonance suppression algorithm, high-speed simulation technology and so on. Furthermore we have a number of independent intellectual property rights of industrial automation technology. With the help of our research team we offer domestic customers with personalized solutions, but also actively develop overseas customers. Our products have gradually gained the attention and favor of foreign customers.
As a leading CNC system supplier in China, WEIHONG is now take a big step to expanding the overseas market.
Right now, our headquarter is located in Shanghai, and also we have multiple branches in most of province of China. About overseas market, we have business partner in the UK , France, the US, Russia, Vietnam, Peru, and Dubai.
As we listed company , to strengthen cooperation with overseas firms, exchange ideas, and enhance the influence of international market has become a new opportunity for our development.
Different Industry, Different Solution
At present, WEIHONG motion control system is getting more popular in glass stone processing, plate furniture, wood carving, mold manufacturing, processing dentures, glasses and various parts processing tools, grinding upper and lower sheet metal highlights, 3C and glass engraving machine loading and unloading, laser machining, water jet machining, injection molding machine pick, lathe unloading, handling ceramic industries and so on. In order to feed the demand of our domestic customer, and also to deal with the situation of the market, WEIHONG have developed different industrial solution which included Laser cutting, Waterjet cutting, Metalwork, wood, Driver industry and so on.
At the same time, we can promote our brand and influence, and also we will get information of the product on the show to help us develop better product of our own by talking to our customer.
Where there is motion control , there is WEIHONG.