HM-1610CCD Laser cutting and engraving machine
HM-1060CCD is widely used in garment industry, to cut logo or mark in leather or cloth
The HD digital camera helps this machine locate the edge of logo or mark and cut it with following the edge.HM-series laser cutting machine adopts DSP digital control technology and integrated design, with high value performance. The first one in laser industry that adopts cable data interface, supports hot plug and transfers data instantly. The work efficiency is highly improved.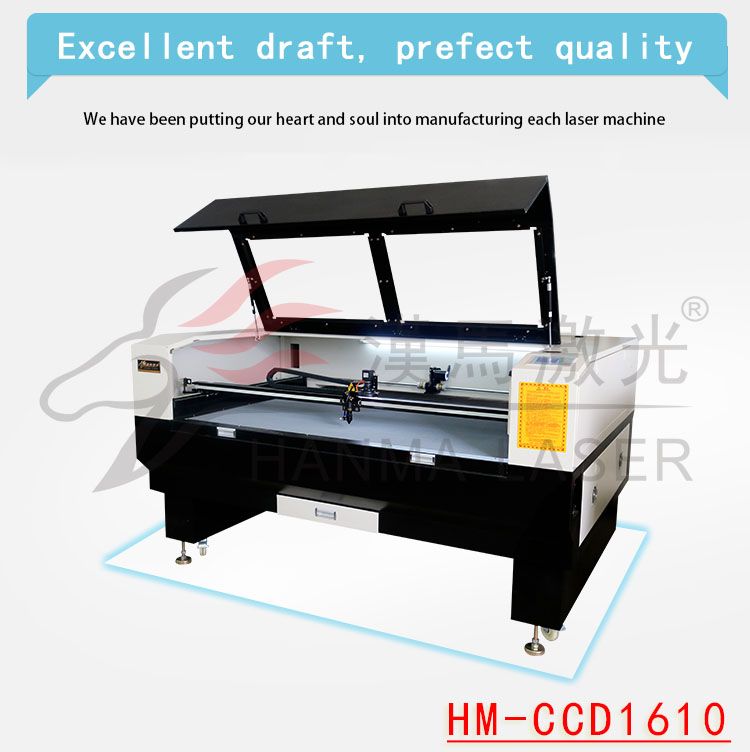 1. High quality CO2 laser tube, life expectancy 10000 hours and guarantee 9 months fix.
2. Full aluminum enclosure laser power, strong stability performance.
3. Lens and mirror import from the USA with high reflectivity and small focal spot.
4. LCD with Chinese and English version, humanized control panel
5. The use of imported brands adjustable high-speed track, the movement more smoothly.
6. Leadshine stepper motor and drive system,strong stability performance
7. Exquisite system operation software set
8. Milling machine processing to ensure the life time and precision of the laser machine body
Technical Parameter:
Working Area:1600*1000mm
Laser power:60w 80w 100w 120w 150w (optional)
Min character:Chinese 2mm, English 1mm
Resolution:0.025mm
Repositioning Accuracy:±0.01mm
Operating Voltage:AC220v±100% ,50HZ/60HZ
Gross Power:<1500w
Operating Temperature:0-45℃
Operating Humidity:5%—95%
Supported format:DWD、DXF、JPGE、PCX、AI、TIFF、PLT、CDR、BMP、GIF
Dimension:2150X1500X1000mm
Gross weight:400kg
Applied Industry and Material
1、Advertising industry:blister word making, double color plate, PMMA, crystal, trophy cup cutting & cutting
2、Art craft:wood, bamboo, leather, marble, shell cutting & engraving
3、Fabric/leather Industry:leather, fabric, clothes, glove, handbag, shoes, cap, toy cutting and engraving.
4、Model Industry:building, plane model, ABC board cutting & engraving.
5、Packaging Industry:rubber, plastic, laser die board cutting & engraving.
6、Marking Industry:marking plate, anti-counterfeit label cutting and engraving
7、Other Industries:marble, granite, glass, crystal, light box, paper, card cutting & engraving.
Applied Industry
Printing, clothes, leather, furniture, toy, advertising, decoration, art craft, ,model, electric appliance, plastic, handbag, glove, computer embroider, packaging and paper industry.
Applied Material:
Logo、fabric、leather、wood、bamboo、paper、acrylic、PMMA、rubber、plastic、tile、crystal、jade and etc. nonmetal material.